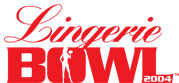 The Lingerie Bowl is an annual Super Bowl halftime alternative special that draws millions of viewers worldwide shown on pay-per-view TV. It features a game of full-contact American football with female athletes playing seven-on-seven tackle football.[1] It first aired during Super Bowl XXXVIII in 2004 with the New York Euphoria losing to the Los Angeles Dream by a score of 6-0. The players in the game wear helmets, shoulder pads, elbow pads, knee pads, garters, bras, and panties.
The halftime special has also included celebrities, national recording artists and former NFL players such as Jenny McCarthy, Dennis Rodman, Chingy, Eric Dickerson, Lawrence Taylor, Cindy Margolis, Traci Bingham, and Jim McMahon. Previous Lingerie Bowls have taken place at the Los Angeles Memorial Coliseum drawing thousands of fans.
Past marketers have included Daimler/Chrysler, Miller Brewing, Universal Pictures, Vivendi Games, Dodge, and Oakley.
Producer Horizon Productions has expanded the concept into a ten team league called the Lingerie Football League (LFL) that played its first season from September 2009 to January 2010 on Friday nights in major arenas and stadiums.[2]
Past events
Edit
Lingerie Bowl VII
Edit
Lingerie Bowl VII featured the winners of the LFL's Western and Eastern Conference in a game played on February 6, 2010, at the Seminole Hard Rock Hotel and Casino in Hollywood, Florida.[3] The game was intended to be webcast opposite Super Bowl XLIV's halftime show in Miami, Florida, on February 7, 2010.[2] The Western Conference Los Angeles Temptation defeated the Eastern Conference Chicago Bliss by the score of 27-14.[4][5] Server problems and "overwhelming internet demand" kept fans from streaming the Lingerie Bowl game video until more than an hour after the conclusion of the Super Bowl.[4]
References
Edit
↑ Cite error: Invalid <ref> tag; no text was provided for refs named suntime6
↑ Cite error: Invalid <ref> tag; no text was provided for refs named cbs1
↑ Cite error: Invalid <ref> tag; no text was provided for refs named nbc2
↑ Cite error: Invalid <ref> tag; no text was provided for refs named blerep3
↑ Cite error: Invalid <ref> tag; no text was provided for refs named nbc4
External links
Edit
{{{title}}}
{{{group1}}} {{{list1}}}
{{{group2}}} {{{list2}}}
{{{group3}}} {{{list3}}}
{{{below}}}